Sterling Year For Pembroke Academics —  2016 Norrington Table Results
Pembroke College obtained its highest Norrington Table score ever, vaulting 16 places in the newly released rankings for the academic year 2015/2016.
Pembroke tied with Brasenose and Univ. as the colleges that had risen most in the ranks, moving from last place in 2014/2015 to 14th place this past year among all 30 Oxford Colleges.

"I am absolutely delighted that our students have achieved 36 firsts, more than the number in the last two years put together," noted Dame Lynne Brindley, Pembroke's Master. "This is the highest number of firsts ever for Pembroke, and our Norrington 'score' of 72.45 is the highest the college has ever achieved."
The Norrington Table, an unofficial academic ranking of Oxford colleges, is calculated using a points system for the degrees undergraduate students are awarded in any given academic year.
The Table is calculated by awarding 5 points for a student who receives a 1st, 3 points for a 2:1, 2 for a 2:2 and 1 for a 3rd.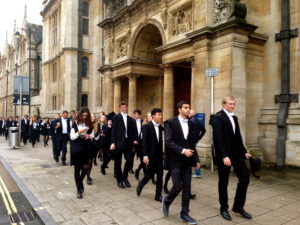 Here is the link to the full Norrington Table.
The North American Pembroke community extends its most hearty congratulations to Master Lynne Brindley and her administration, to Pembroke's academic Fellows and staff, and most especially to Pembroke's students for their historic accomplishment.