Novelist, screenwriter, extreme sports enthusiast, renowned Republican political consultant, and epicure Stuart Stevens '72 is out with a timely new book, "The Innocent Have Nothing to Fear" (Random House), a dark comedy about an American presidential campaign involving a Trump-like character and set in a contested Republican convention.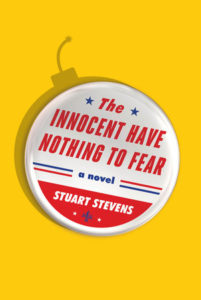 "I started the book before the (2012) Romney presidential campaign but then put it aside," Stuart, who was principal strategist for that campaign, told The North American Pembrokian by phone from his home in Stowe, Vermont. "I picked it up after the campaign and finished it a year ago before Trump emerged. Even then, however, I could imagine the possible emergence of a Trump-like candidate."
"The Innocent Have Nothing to Fear" is already garnering rave reviews. "A great read. Vivid, fresh, and funny. The characters are nuanced, the dialogue zings," writes Bloomberg political savant Mark Halperin, who calls Stuart "that rare authorial animal: a political novelist who actually understands politics, who appreciates how the ambition to run the country both shapes and warps character, and who can lay it all down on the page with verve and aplomb."  New York Times critic Michiko Katukani praised Stuart as "a terrific raconteur — funny, observant and highly entertaining."
Stuart, the author of six previous books, has been a regular commentator throughout the 2016 presidential campaign for CNN, FOX News, and other outlets. He is no fan of Mr. Trump. "He's the most dangerous politician I've ever encountered," he said. "Can you imagine giving the guy the key to nuclear weapons when he can't stop tweeting about himself?"
Stuart came up to Pembroke in 1973 after graduating from Colorado College. A family friend and Pembroke alumnus, Dr. Hubert Langford, in Stuart's hometown of Jackson, MS, encouraged him to apply. "I arrived at Pembroke during the last year J.R.R. Tolkien was teaching. What an amazing opportunity it was to get to know him," he recalled. Stuart has remained close to Pembroke ever since his Oxford days, and has been active in Pembroke College Foundation North American activities.
Stuart is a co-founder and principal of the Washington-based political and corporate consulting firm, Strategic Partners & Media.
When not writing books, advising politicians, or writing TV shows, Stuart is an avid and fearless participant in extreme sports. He is currently training for the Vasaloppet, the famous 90 Km (56 mile) cross-country ski race held annually in Sweden. "I'm getting in shape by hiking New Hampshire's White Mountains. We go fast – running when we can."
Next year, Stuart plans to return to endurance bicycle touring. In 2013, in an effort to decompress from the Romney campaign, he completed a 30-day, coast-to-coast bike ride from Oregon to Virginia. "Next year I'm going to do it in 16 days."