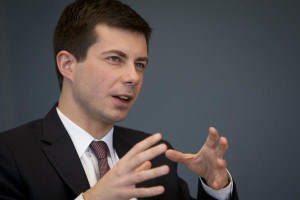 The national celebrity profile of South Bend, Indiana, Mayor Pete Buttigieg,'05 (subject of a North American Pembrokian profile last year), keeps increasing.  Fresh off an overwhelming re-election victory in November, Pete is, according to New York magazine, one of 10 young leaders cited by the magazine as the future of the Democratic Party, and possibly a future presidential candidate.
Here's what New York had to say about Pete:
The Mayor Who Got Called to Afghanistan
Peter Buttigieg
Age in November 2024: 42
A former Rhodes Scholar and McKinsey consultant, Buttigieg was elected mayor of South Bend, Indiana, in 2011. He became the youngest mayor of an American city with over 100,000 people — and then spent much of 2014 in Afghanistan, called up by the Navy Reserve. He received a Mayor of the Year award from the government and technology site GovFresh in 2013. "To the extent that I've been able to send the message that we're coming back and have a city we ought to be proud of—that is going to be the most important thing I can do for the community," he says.