Bradley Peacock '92 –From Boy In The Bow…To Brand Builder
By Anna Lund '09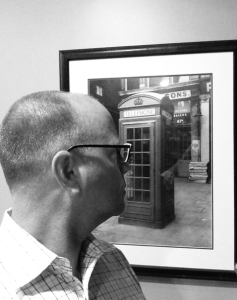 Bradley Peacock '92 is alarmed at the declining number of American undergraduates studying the humanities. "I believe it is the result of both the increasingly astronomic cost of higher education and risk aversion among employers and graduate school decision-makers," he told the North American Pembrokian. "And it saddens me."
Bradley, who received a MA in English at Pembroke and is a trustee of the Pembroke College Foundation, lives in Chicago with his wife Tracy and their two sons.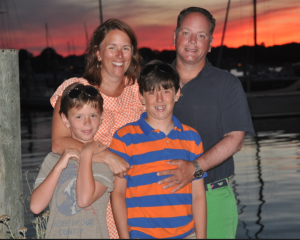 As the founder of the successful market intelligence and strategic consulting firm Peacock Nine, he believes that a degree in the humanities is not only good preparation for academia but is also excellent preparation for a career in business.
"The real risk-takers today are the ones who are studying the humanities," he says. "They are letting their passions lead them rather than their pocketbook."
Following his own passions has led Bradley to achieve success both personally and professionally. As an undergraduate at Bates College he "fell in love with English literature." This love of English led him to apply to Pembroke for further study.
After an unsuccessful first application to Oxford as Bates' candidate for a Rhodes Scholarship, Bradley was undeterred from his goal of studying abroad. He felt that he would gain more from postgraduate work abroad than at home because "studying abroad is invaluable to the creation of a person because it necessarily tears you from your comfort zone and demands that you learn to see life through someone else's perspective. "So I dusted myself off and applied to Oxford on my own." He was drawn to Pembroke because of the College's reputation as a closely-knit and warm community.
"Pembroke changed my life in ways that I could never have imagined" he says. "I thought I would go to Pembroke, get my Master's, join a PhD program, teach, and then perhaps become an academic as a prelude to the presidency of a small New England college like Bates."
Academics spoke to him at Pembroke.  He recalls with great fondness one-on-one tutorials with Dr. David Fleeman in his study overlooking the Chapel Quad. "As we sat there together, books stacked from floor to ceiling, Dr. Fleeman taught me about critical thought, rhetoric, history, writing, language, literature—and importantly about his passion for Samuel Johnson and Jane Austen."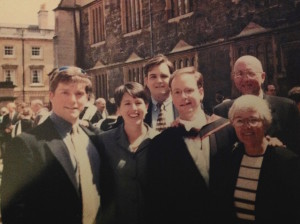 In addition to Pembroke's academic challenges, Bradley cherishes the connections he formed outside of the classroom. "My time in the MCR introduced me to some of the most fascinating human beings that I've ever known in my life, pursuing a wide array of disciplines and harkening from all around the globe," he told The North American Pembrokian. "Those friendships taught me how to be a better communicator by being a better listener."
Bradley is particularly thankful for all he learned as a member of the Pembroke men's 2nd VIII.  "I had never felt the 'zen of the team' like I felt during those 5:00 am misty mornings rowing on the Isis." Indeed, the name of his company, "Peacock Nine", is a reference to the sport. "There are eight men in a crew," he says. "My time at Pembroke taught me that the boat with the greatest understanding of the men rowing the boat is able to propel itself ahead of the pack as if it had a 'ninth rower.'"
While Bradley loved reading English literature at Pembroke, somewhere along the way he realized the very reason he loved English was perhaps the very reason that he shouldn't pursue an academic career.
"As my time at Pembroke was drawing to a close, I decided that a PhD wasn't for me. It would mean years alone in the bowels of a library somewhere, miles away from the interactive learning community that I prized.
"One day, while I was sitting on the grass of Chapel Quad, a good friend from Pembroke recommended that I look into a career in marketing as it combined my creative side and my interest in business."
At about that time many US advertising agencies were attracted to a new, hybrid discipline imported from the UK called Account Planning.
"Account Planning was a mash-up of business strategy, market research, and consumer psychology designed to ensure that the advertising work was created to 'speak to' not 'speak at' the consumer, he says. "For a student of theme, character, and story this was a dream come true."
Thus, Bradley began his new adventure in the study of connectivity in Vancouver, BC, at the international advertising agency BBDO.  From Vancouver he moved to New York to the brand strategy think tank at McCann-Erikson where he helped craft strategies for clients like Chase Bank, Johnson & Johnson, and Exxon. The think tank evolved into a pure brand consulting firm called Bright Sun Consulting started by Peter Kim, previously Vice-Chairman of McCann, and five members of his strategy circle. Bradley was part of that inner circle. They embarked on such exhilarating large-scale projects as positioning Qwest for its IPO and the repositioning of the Korean chaebol Samsung.
At just 28, Bradley was leading all of Exxon's brand-related activities in the US.
Nine days shy of his 30th birthday, Bradley decided to follow in his father's footsteps, and his passion, and start his own business – a consulting firm that would become Peacock Nine. The company's initial focus on brand strategy evolved to include market research and innovation.
Fifteen years in the making, Peacock Nine's current client roster ranges from global behemoths like Goldman Sachs, Microsoft, and McKinsey & Co. to the Art Institute of Chicago.
At Peacock Nine, Bradley is partial to hiring English majors. "An English major is 'built' to understand character, theme, and motivation and that's the crux of what we do for our clients. An English major is able to weave together seemingly disparate 'threads' of understanding into a cohesive story," he reasons. "So much of the value we bring is weaving a compelling 'story' for our clients that gets them to see their world in a unique way, to convey that story to others in the organization, and ultimately, to fuel positive actions and change."
He believes that just as the study of English is an excellent preparation for a life in the corporate world, so too is participation in student athletics.
"Student athletes understand discipline and sacrifice. To get your studies done and to also be able to compete at the highest levels, you have to have a strong constitution and time-management skills. Also, athletes like to compete both within themselves and with others and that desire for forward progress can't help but fuel success. I believe that that dedication to something greater than oneself is a bellwether for what one will achieve in life both personally and professionally and I've got Pembroke to thank for that."
Like many fellow North American Pembrokians, Bradley's Pembroke experience continues to resonate whether at work, at leisure reading or, during early morning erg sessions, picturing himself gliding across the Isis. "Pembroke thrust me back out into the world with a sense of 'arms wide open' confidence that propelled me forward in life."