Our own prolific – and prodigious – Walter Isaacson '74 is out with a great new book.
The Innovators, something of a sequel to his best-selling biography of Steve Jobs, is the fascinating story of the people who created the computer and the Internet, or as Walter puts it in his subtitle, "how a group of hackers, geniuses and geeks created the digital revolution."
The key to these innovations, Walter argues, is teamwork: how some of the most important inventions and profound scientific breakthroughs have come about by people working not individually but in groups.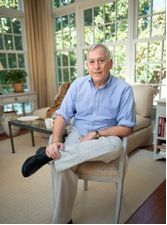 And surprisingly – though it should not be – many of these innovators were women who have often unfairly been written out of history. People like Ada Lovelace, Lord Byron's daughter, who in the 1850's wrote the first computer algorithm, and Jean Jennings and Betty Snyder who, in the 1940's, helped program Eniac, the world's first general purpose electronic computer.
"A sweeping and surprisingly tenderhearted history of the digital age," the New York Times reviewer calls The Innovators, "absorbing and valuable, and Isaacson's outsize narrative talents are on full display."
UPDATE:  In related Isaacson news, Oscar-winning actor Christian Bale will star as late Apple CEO Steve Jobs in the film based upon Walter's best-selling biography. Aaron Sorkin is writing the screenplay for the movie which is expected to be coming to a theater near you sometime in 2016.