Pembroke's new pedestrian bridge, the first to be built in central Oxford in 100 years, has won a prestigious international design award and brought out the BBC's network cameras for its dedication.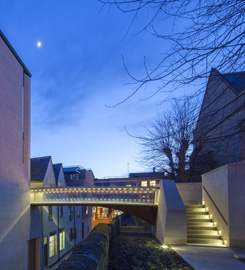 The bridge, linking Chapel Quad with the new buildings and quad which spans Brewer Street and the old City Wall, has been awarded the 2013 Structural Award for pedestrian bridges by the Institute of Structural Engineers. Pembroke is in exalted company: previous winners include London's 2012 Velodrome and the King's Cross Station Redevelopment.
The last bridge to be erected in central Oxford is Hertford College's famous Bridge of Sighs. Here is a link to the announcement of the award.
Meanwhile, the BBC broadcast a special report on Pembroke's young but already famous bridge on the occasion of its dedication.